Usually, the wedding ceremony ends when the couple exchanges a vow and says the magical words "I do." But for most couples, that's the beginning of the wedding.
The couple cuts the cake, followed by their first dance, and the real party begins. A wedding ceremony is a beautiful day planned long before in every bride's mind. Every couple wants to keep the beauty of this blessed day.
You can also make it perfect by getting involved in wedding planning. Wedding planning isn't a piece of cake. It involves plenty of management, I-e, catering, photography, rings, venue, décor, etc.
Wedding planning includes selecting flowers for the wedding aisle and choosing wedding centerpieces.
No wedding décor is complete without the wedding centerpieces. A wedding centerpiece has a specific magical power to prettify any venue. You can use it with flowers or candles, or a simple placement is enough to make your wedding décor the talk of the town.
But the question is, what size of the wedding centerpieces to go with? Whether tall or short, which centerpiece size would look best? Look at some of the most exquisite wedding centerpiece ideas for your blessed union.
What Height Should Crystal Wedding Centerpieces Be?
Using a tall or short wedding centerpiece is the couple's choice. But in a general scenario, a tall centerpiece gives a regal and grandeur touch to the whole attire.
Tall crystal wedding centerpieces would be great if you select a large venue for your reception. Imagine tall centerpieces and chandeliers illuminating the large platform and glorifying every table.
To match the size of large head tables, tall crystal wedding centerpieces would be great.
As on a sweetheart table, it would offset their excellence and size. Always be careful with the placement of a tall wedding centerpiece.
Try not to block the eye level of your guests, as this would obstruct the beauty of your event. A tall centerpiece, most minor height should be at least 32 ".
Choose small vases and glasses for an intimate or a wedding on a budget for a lovely addition. You can further compliment the wedding centerpieces with flower balls, candles, garlands, etc.
Use mini wedding centerpieces with votives or tulips to compliment the venue. The average height of a short wedding centerpiece shouldn't be more than 12" tall.
Tall vs. Short - Which Wedding Centerpiece Is Right For You?
Wedding décor is one of the most crucial parts of a wedding. Wedding centerpieces are the focal point for all wedding décor. Keep these issues in mind while selecting the size of crystal wedding centerpieces for your big day:
It depends on the venue the couple chooses for their big day. A wedding venue would help the couple decide which décor best fits the size.
Use tall glass chandeliers and tall crystal wedding centerpieces to fulfill the grandeur effect. While selecting short wedding centerpieces for an intimate wedding would be excellent.
The size of the table is another indicator in deciding the size of the crystal wedding centerpieces. It would be disappointing to see a small wedding centerpiece on a large head table.
At the same time, a large wedding centerpiece would not look good with a little sweetheart table.
It's always about the theme! Before considering the size of crystal wedding centerpieces, always remember the theme.
For example, large centerpieces or chandeliers would not complement a minimalistic wedding. But using the large crystal wedding centerpieces with roses for a garden wedding would be great.
Another crucial factor to help you decide on your wedding centerpieces is the time of the day. Yes, it matters a lot.
For example, candles with simple glass would be enough for a winter wedding. While for a summer wedding, using flowers and garlands with vases would be excellent.
Large wedding centerpieces are much more expensive than small wedding centerpieces. It all depends on your budget. Even if you've got plenty of cash, always manage wedding preps side by side while deciding about décor.
It's always a great choice to discuss the type of flowers and budget with your significant other. Remember, you both have decided to be soulmates for life, and their opinion should matter to you too.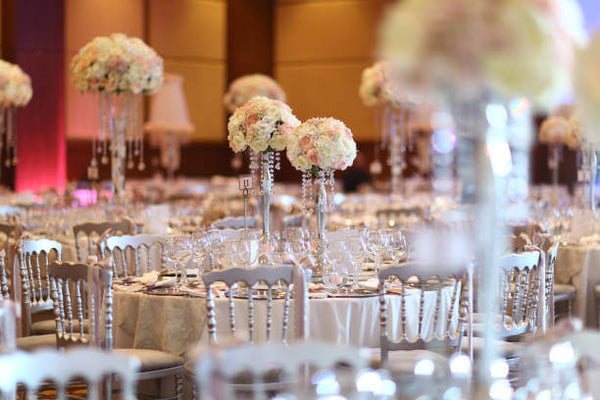 Conclusion
There is no hard or fast rule to follow while selecting a wedding centerpiece for your big day. It's your day, and only you can decide what's best for you. Talk to your florist about various options while discussing your budget.
Be bold and push for more. People will forget what you wore at your reception but remember how your wedding was. Our guide will help you find the perfect crystal wedding centerpieces for your marriage.
Which centerpiece will you use for your big day? Let us know in the comments below. Happy wedding.