There's nothing quite like dining al fresco. Eating outside brings an added dose of fresh air and natural light. But it also poses unique challenges when it comes to table settings. How do you set a beautiful outdoor table without ruining the ambiance?
That's where outdoor table centerpiece ideas come in handy. Whether you have a small patio or are lucky enough to have access to a private backyard it doesn't matter. Making the most of your outdoor space is essential.
You can transform your outdoor space into the perfect picnic spot. All you need is the right setting tricks for outdoor table centerpieces. Check out these creative ways to decorate your outdoor table centerpieces. It has everything you need, from lush plants to fragrant candles and everything in between.
1. Vases and Flowers: A Table Centerpiece Idea
A vase filled with flowers is ideal for any tall outdoor table centerpiece, as it is both lovely and simple to make. This straightforward yet elegant decor is very adaptable. It may be used indoors or outdoors for any occasion or celebration.
Start with selecting a sizable vase that can hold various flowers. This can help you create an outdoor table centerpiece.
Add your preferred bouquets after adding new water to the vase. Consider utilizing vibrantly colored wildflowers like daisies or sunflowers. They come in handy for a ravishing summertime appearance. Alternatively, choose mums or chrysanthemums in deep hues for a more autumnal look.
2. Candle Lights and Lanterns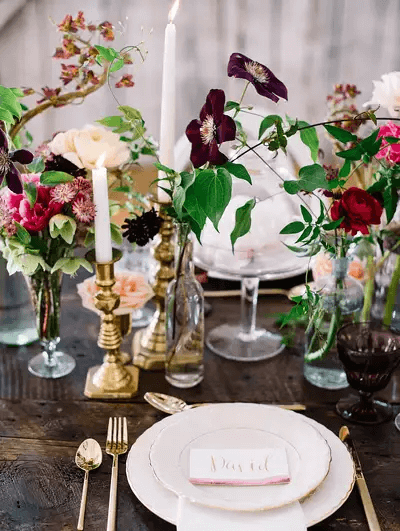 There are various ways to use candles in your outdoor table arrangement. This is because they are a traditional table centerpiece.
Candles can be used to set the mood, light up a room, and add a little flair to any table. The preceding tips should be considered when selecting candles for your outdoor table centerpiece.
Select weather-resistant candles that won't melt in the heat.
Choose unscented candles to spare your guests from overpowering aromas.
Consider using battery-operated candles for convenience and safety.
Choose candles with patterns or colors that go well with the rest of your table decor.
Any outdoor table setting can be improved with candles quite easily. They may be used to set the ideal mood for any occasion with a little forward preparation.
3. Seasonal Fruits And Vegetables: A Low-cost And Simple Table Centerpiece
Using seasonal fruits and vegetables as a centerpiece is affordable. It is also a simple way to dress up your outdoor table centerpiece.
This is a fantastic method to make the most of the current season. You can also express your creativity concerning outdoor table centerpiece decor. Including more healthy food in your diet is also a fantastic method.
Using seasonal fruits and vegetables as centerpieces have seemingly endless options. To build a special and lovely presentation, use your creativity. It helps to combine various product types and colors. Here are some suggestions:
As the foundation of your centerpiece, use a sizable bowl or plate and fill it with various seasonal fruits and vegetables.

Arrange everything in a straightforward, one-layer style for a more contemporary appearance.

Make your arrangement festive by including seasonal accents like miniature pumpkins or gourds.

To make a rustic centerpiece, place your flowers in Mason jars or other canning jars.
Regardless of your design, adding seasonal fruits and vegetables as a centerpiece will impress your guests and give your outdoor parties some extra zest.
4. Picture Frames: A Unique But Creative Table Centerpiece Concept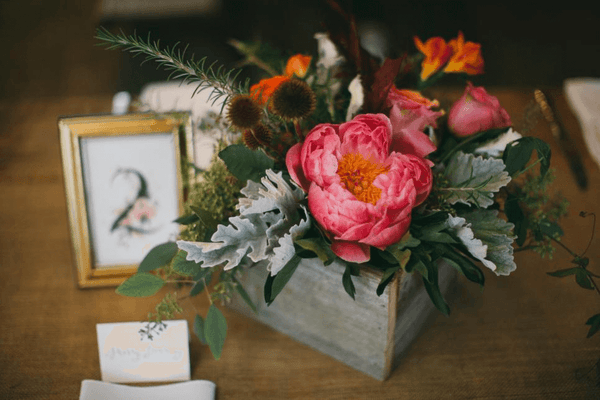 A special occasion is not required to create a lovely tablescape. A simple meal may become a lovely occasion with slight creativity. Consider using photo frames as a table centerpiece, for instance. It's an original but clever idea that will amaze your guests.
You can easily pick a picture frame to complement your outdoor table centerpiece. This because they come in all different styles and dimensions. Try utilizing a frame with a stand if you're eating outside so it can be set on the table.
Use frames of various sizes and arrange them in a collage-like presentation to add more interest. Simply fill the frames with some nice flowers or other decorations after that. It's an easy yet sophisticated way to spruce up your table.
5. Baskets
Baskets are a great way to add texture and style to your outdoor table. They come in various sizes, shapes, and colors so that you can find the perfect option for your space. Baskets can be used to hold candles, flowers, or other small decorations.
Choose the right size and style to use baskets as outdoor table centerpieces. Then, select a basket that will complement your decor. Once you have your basket, fill it with candles, flowers, or other small decorations.
Conclusion
Setting up an outdoor table centerpiece can become a tedious task when it comes to sorting through the best ideas for it. From considering modern to rustic items like a vase, light, fruits, and ornamental decors, you can then any simple diner to an amazing event with loved ones.
The aforementioned tips and ideas make creating a table centerpiece easy and executable.