You may find a wide selection of glass candle holders on our product page, as endless efforts have been placed to launch hot glass candle holders. And technique and packaging of the products have been upgraded all the way. Some seemingly less important secrets, such as the combination of LEDs with candle holders, make us stand out among other sellers.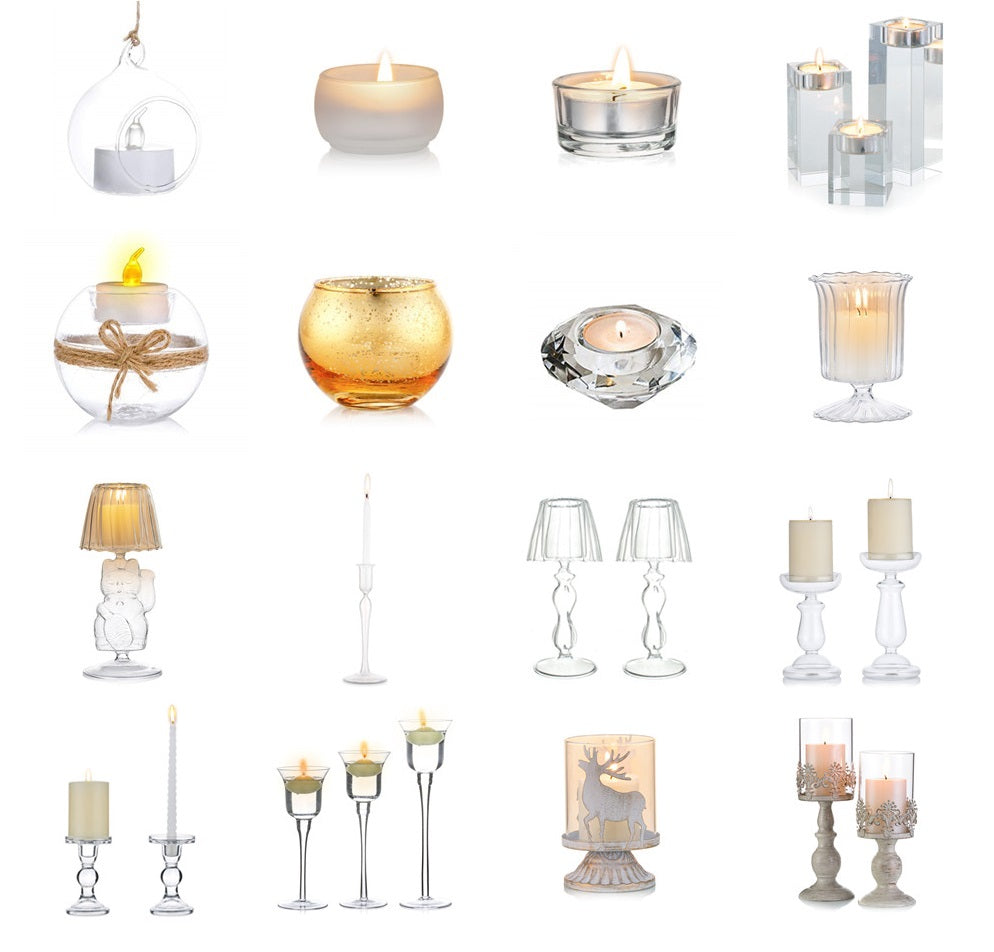 Hanging glass balls are the most popular product among glass candle holders. It is made of borosilicate glass, resistant to high temperatures (between -20 °C and 150 °C), superlight but not brittle. Those glass orbs give you one more way to show your creativity. They can be hung with a small eye at the top, or they may sit on your tabletop as the bottom is flat. The glass orbs fit nicely in any space, such as for wedding decoration, home decoration, garden and yard decoration, etc.
Such glass orbs come in 2 styles, the classic one without 2 holes at the upper part, except one opening at the side, with 3 sizes of 6cm, 8cm and 10cm, and the glass orb with 2 holes, for better ventilation, and currently only 8cm ball provided. How to choose from them? It depends on which style better fits your purpose.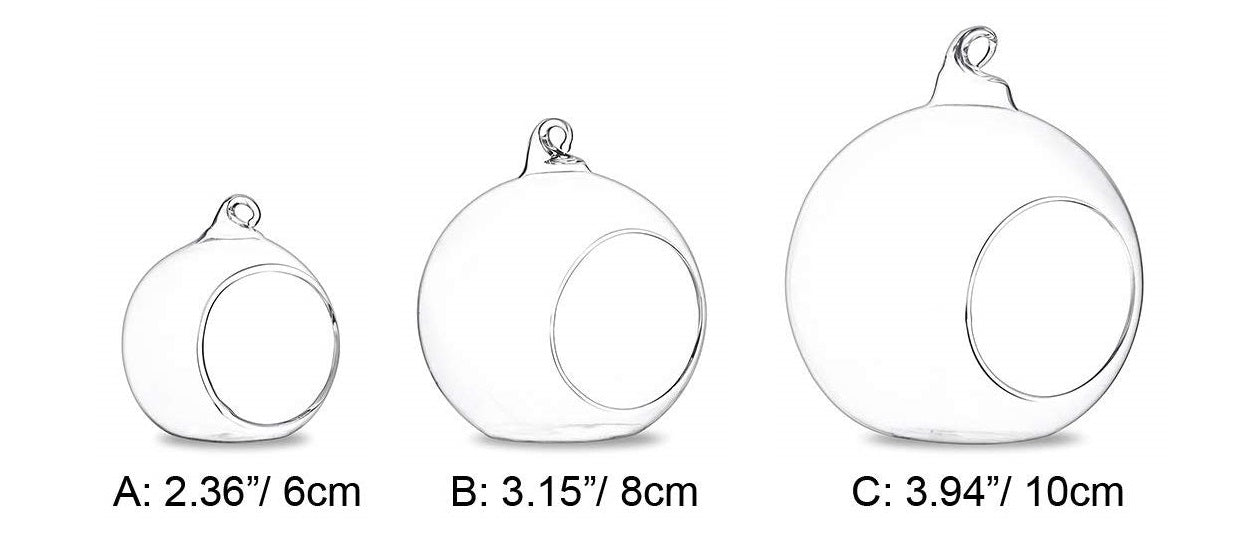 Glass Orbs in different sizes
In 3 colors of gold, rose gold, and silver, Mercury glass balls are an excellent addition to our decorative balls. The mercury glass will enhance the warmth of LED lighting.

Mercury glass balls, gold, rose gold, and silver.
Glass orbs are indeed an excellent way to showcase your creativity. You may fill it with LEDs, dry flowers, fresh flowers, air plants, succulents, etc.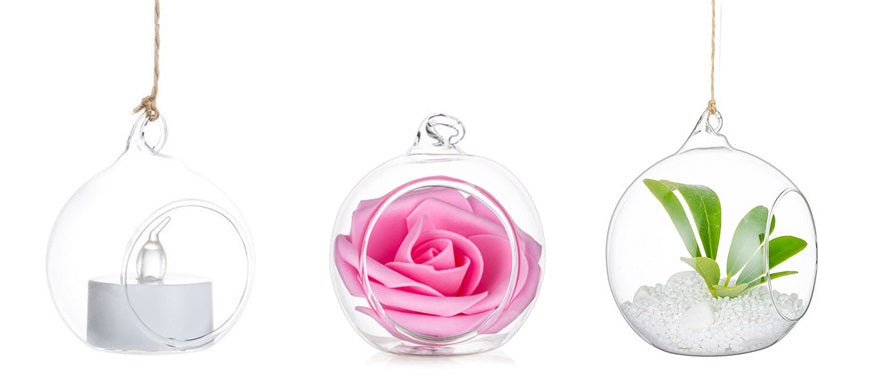 Glass angel is indeed receiving its due popularity. A wide selection of glass angels in different sizes and designs are provided on the product page.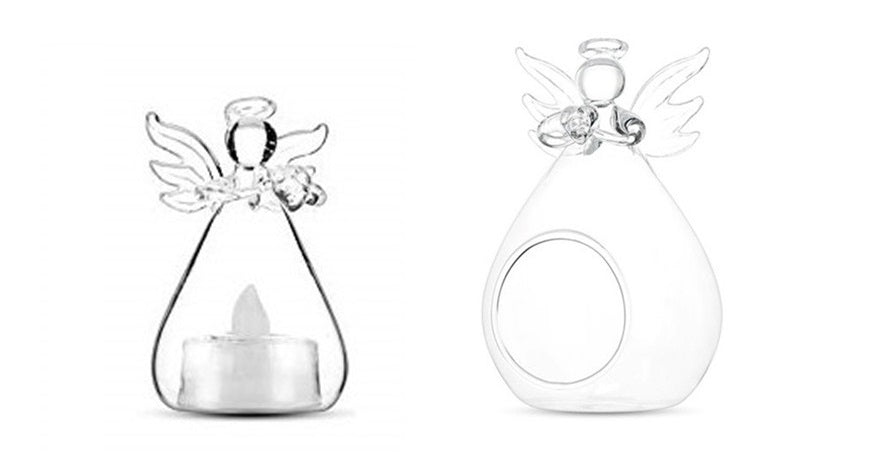 Our glass candle holders can be assorted by taper, pillar, tealight, floating candle and votive. And some are even dual-use or versatile in purpose.
For example, the following glass candle holder will enhance the look of any space with a colored taper and warm flame. Made of high borosilicate glass with high transparency, its unique and beautiful shape brings it a great favor.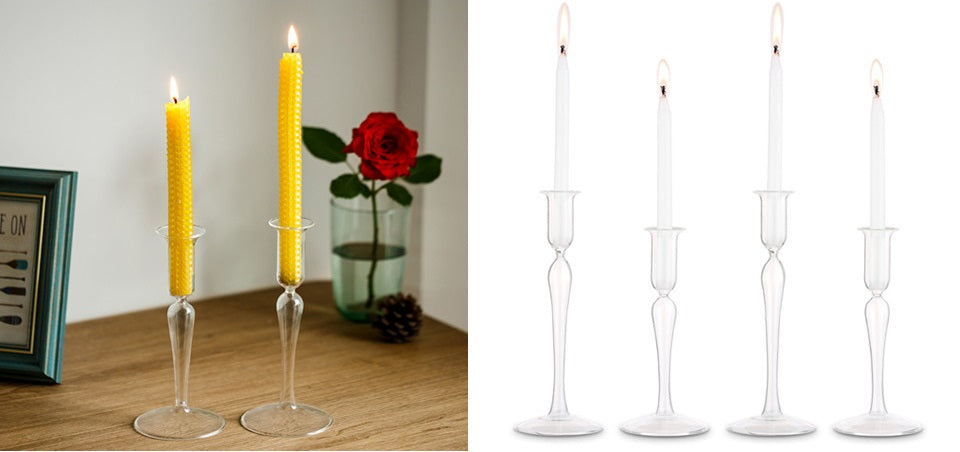 This stunning candlestick is made of crystal, rhinestones and metal. Rhinestones are filled in the stem, and the crystal base is cut angular. This item looks luxurious and glittering.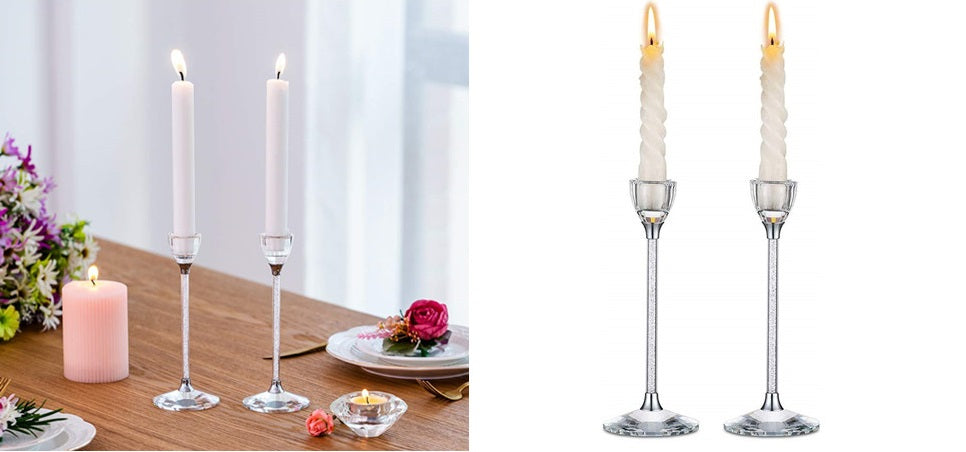 Crystal Candlestick Holder
The delicate hexagon cup and round base, plus the sturdy construction and connection, make the taper candle holder more expensive and beautiful than the picture.
Our pillar candle holder is generally iron or wood, and some are made of pressed glass. Now, based on our insights into the market, we have developed several popular pillar candle holders made of high borosilicate glass, as shown in the pictures. This gourd design pillar holder is transparent and crystal, eye-catching but straightforward.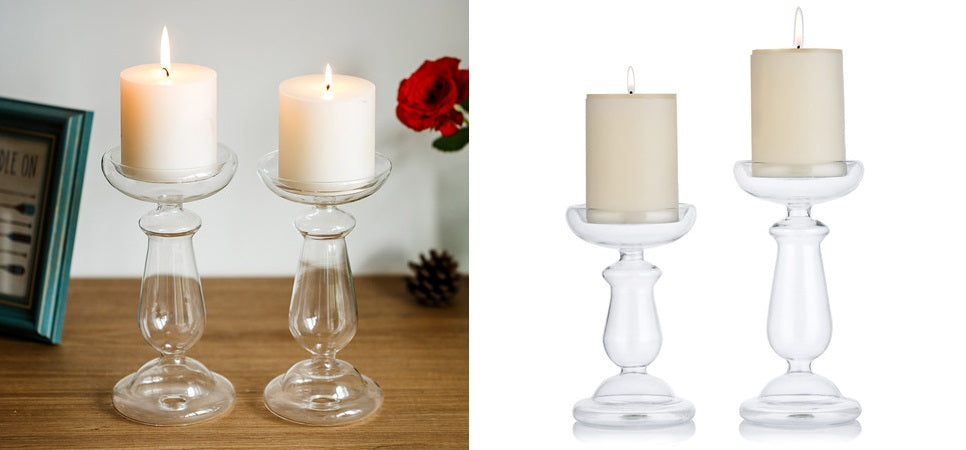 Glass Gourd-shaped pillar holder
This holder is made of pressed glass, heavy and crystal. It has a pit in the middle and supports both taper and pillar candles.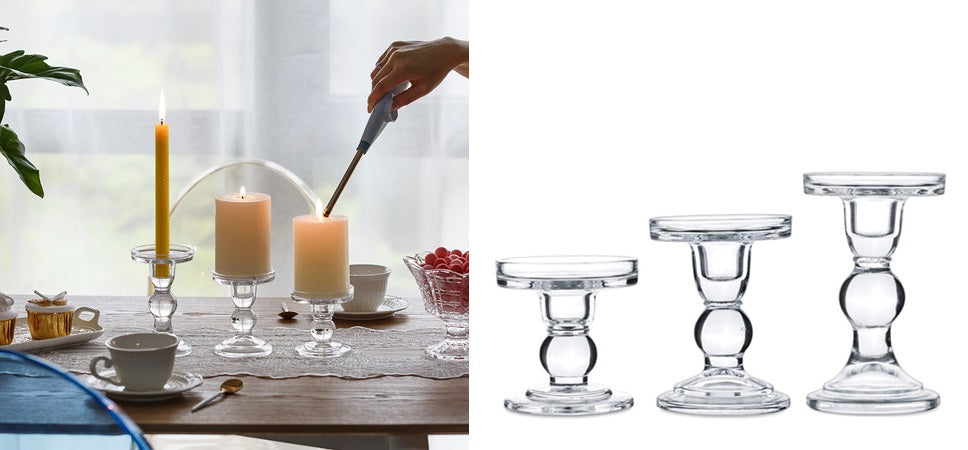 Dual-use Candle Holder Collection
The following glass goblet holder is versatile for pillar, tealight and floating candles and whatever you like. With your creative idea, the collection will be a cost-effective but unique and gorgeous centerpiece.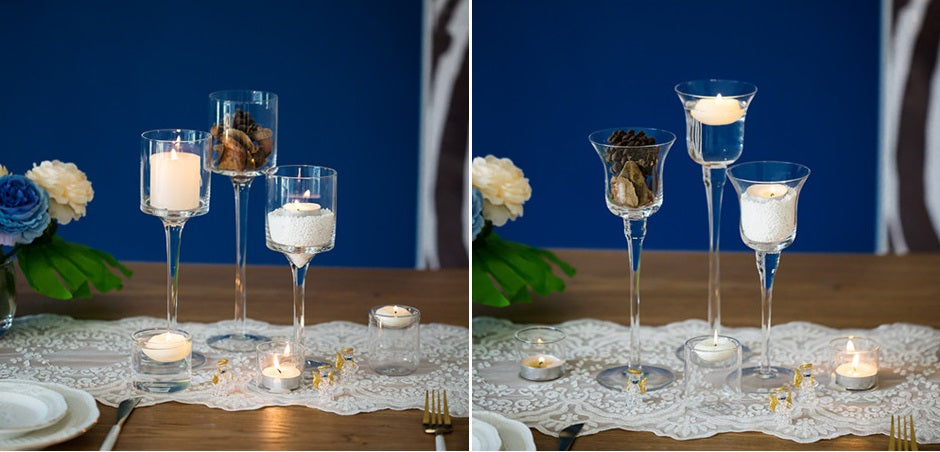 Now come to the tealight holders. We have a vast range of tealight holders.
The mercury glass cup holder comes in 3 different shapes. People love mercury glass, a retro style. Each mercury glass has a thick bottom to prevent the glass from cracking or people from burning and ensure long-lasting glittering.   

Unlike the mercury glass cup, the following glass cups are made of ground glass or pressed glass. The rays emitted from such glass are even, creating a very comfortable scene for you. Those tiny but cute glass cups are cost-effective.

Ground Glasses
There are high borosilicate glass transparent cups in those glass votive cups and tiny cups. It is lighter than pressed glass but heavier than ordinary glass, but more transparent and clear.
High Borosilicate Glass Transparent Cups
More high borosilicate glass tealight candle holders: those holders come in a wide variety of shapes and designs. Some are DIYable or dual-use. They have received great favor among shoppers.

Tealight candleholders (high borosilicate glass)
Table lamp tealight holders are adorable and inviting. Those high borosilicate glass lamp candle holders are an excellent addition to home decorations.

Table Lamp Tealight Holders
Crystal glass holders, made of K9 crystal and inclusion-free, are clear and crystal. Those products are packed in pearl wool for safe delivery. They are a good choice for gifts.

K9 Crystal Tealight Candle Holders
Floating candle holders are popular around. They will instantly change the look of a table, centerpiece, or outdoor setting!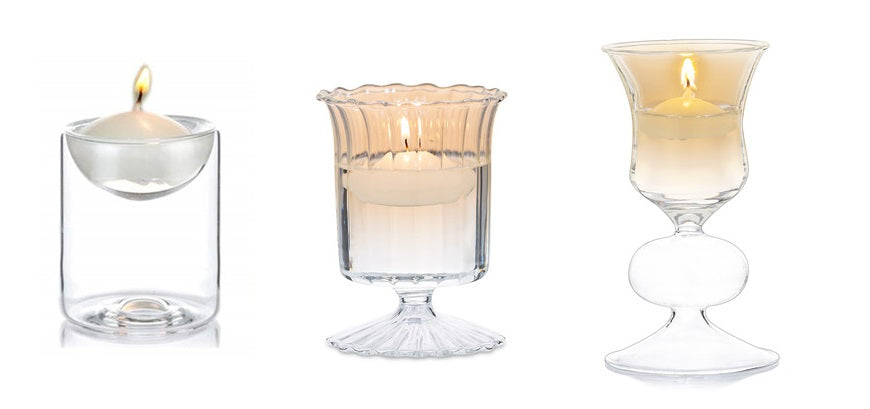 Floating Candle Holders
As glass products are fragile, we work to ensure safe packaging. They are generally packed in polyfoam or pearl wool. They are customized to keep the product in place during long trips and prevent crashes.

Glass Product Packaging
Our glass candle holders have received immense popularity in the retail markets, supported by the testimonials of shoppers from Amazon, eBay, and the like.