Cake stand or cake stand collection, a great item to enhance presentation in tea parties, holiday or wedding ceremonies, and wedding reception, are essential to people's daily lives. We provide cake stands in a classic shape, modern look, vintage style, and made of metal, wood, metal, and beads or mirror.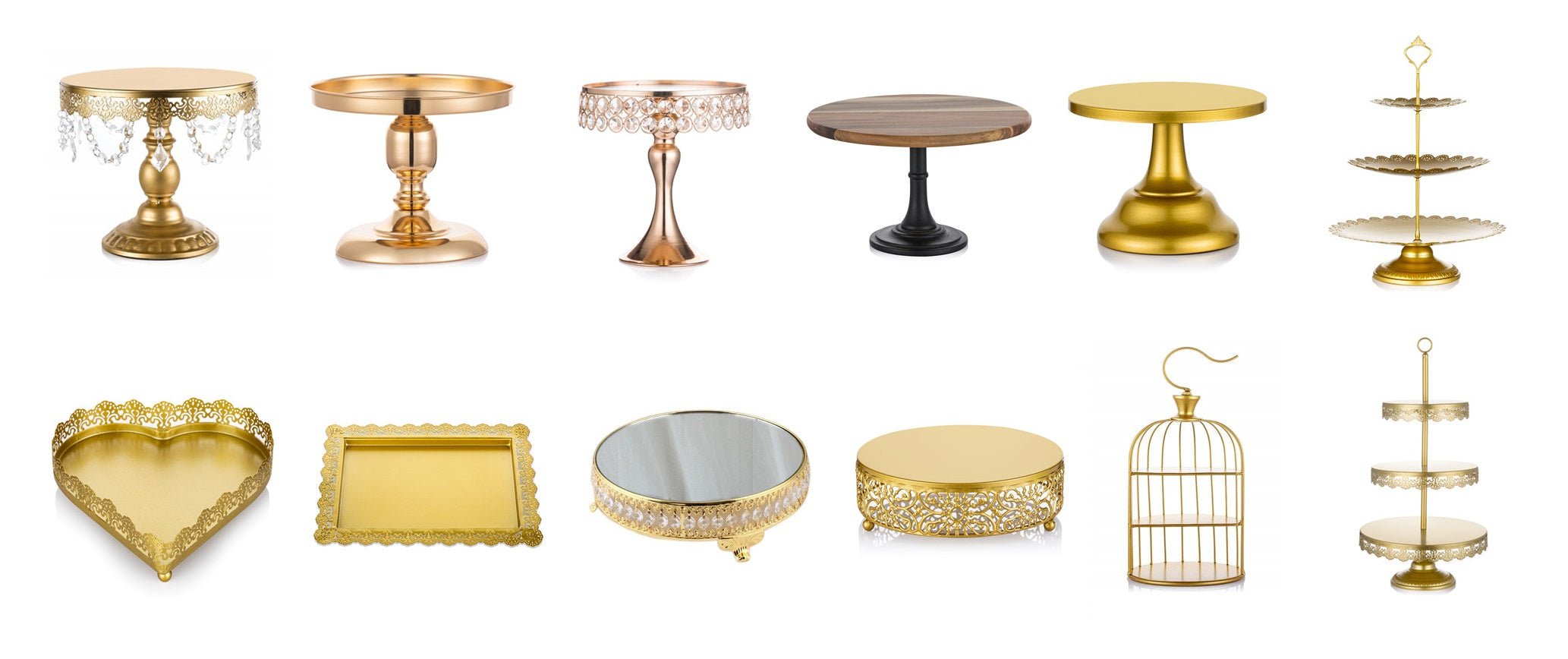 To learn more products, please visit our product page
Material: Metal, wood, or plastic
Different materials provide you with an extra touch. Metallic stands, stunning and glittering, serve well for grand events or weddings. Wooden holders, classic, rustic or straightforward, are eco-friendly and suitable for various occasions.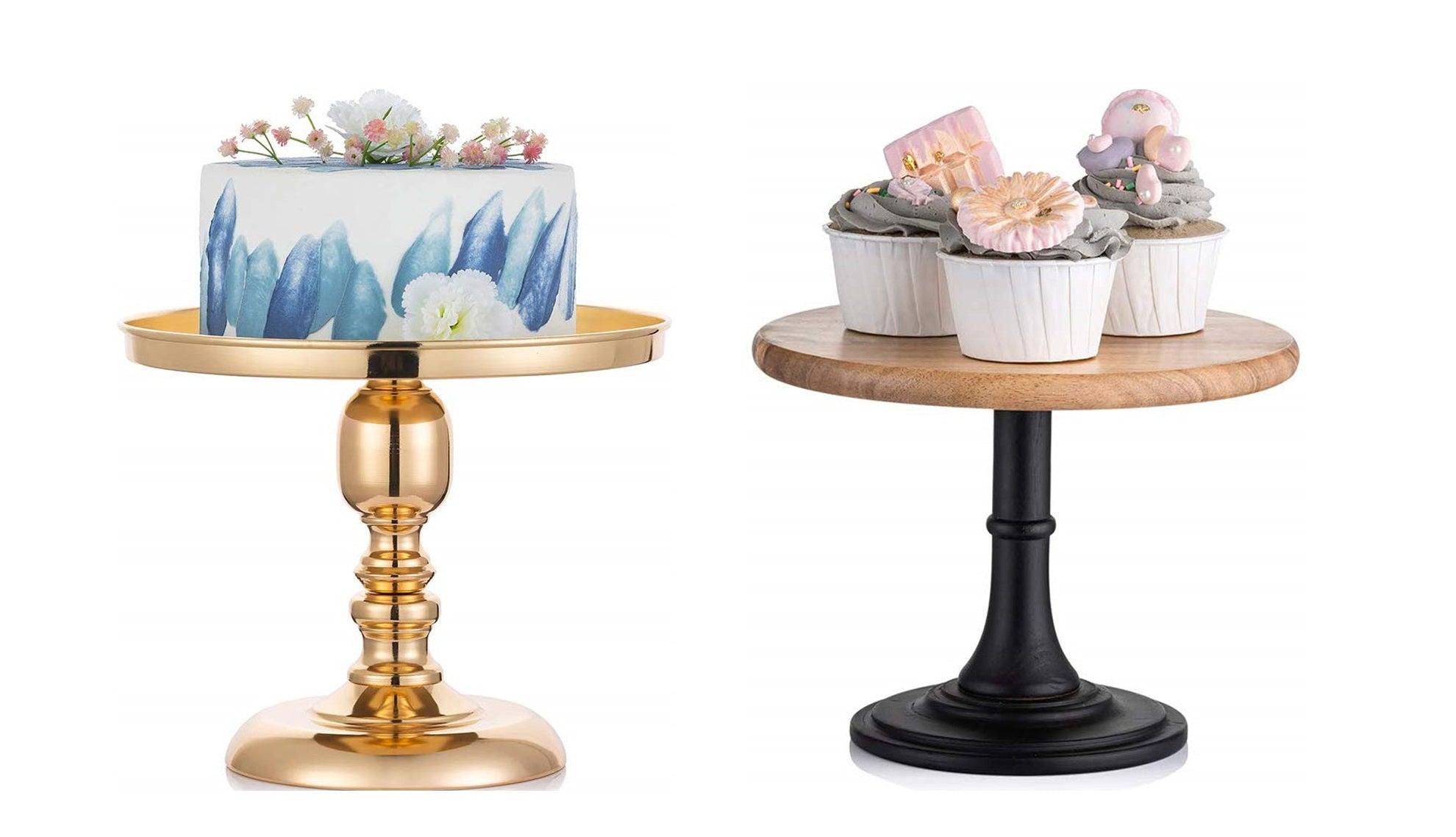 The metallic stand looks Gorgeous while its wooden counterpart is classic and unadorned
Color: various colors are available for our cake stand series. The dominant color includes gold and silver, and we also provide white, black, pink or otherwise colored stands.

This item is provided in four colors
Sizes: our cake stands come in single tier or multiple tiers and many collections of up-down heights, to meet your different demands.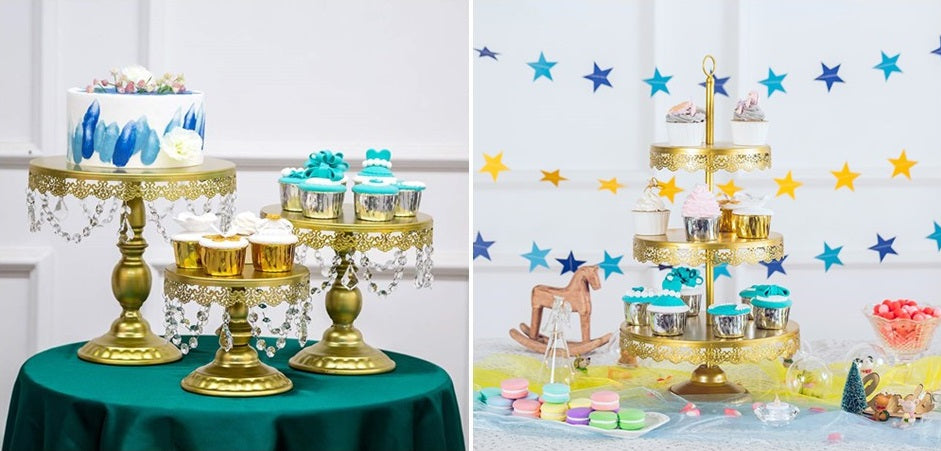 Cake stand collections and tiered cake stand
Besides the stands, we further offer cake trays and serving trays, a full collection together with stands, as shown below: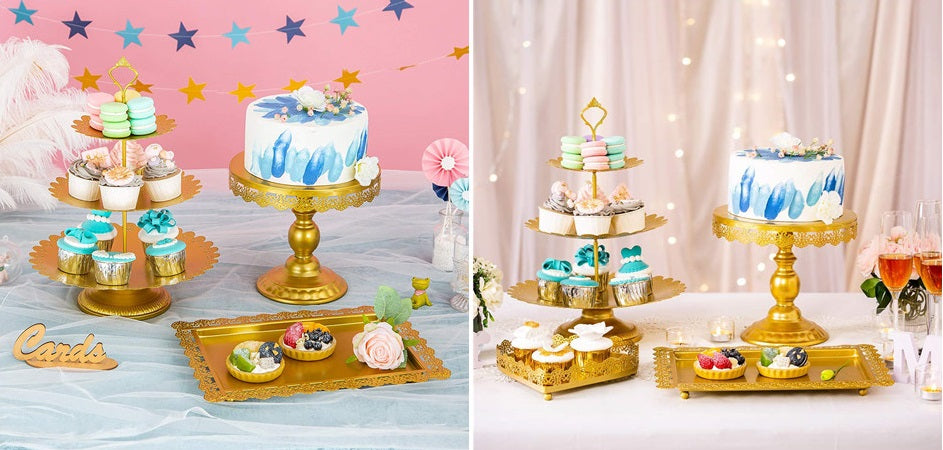 Set of 3 and set of 4 collections
Shape: based on the classic round stand, we add some chic styles, such as birdcage cake holder, mermaid design and beads befringed stand, heart shape tray and mirror tray.

Detailing: cut-out laces, crystal pendant or mirror elements add elegance and stylishness to our product, complementing any type of decor.

Details of our products
Baking finish: most of metallic cake stands are manufactured by environmentally friendly nano-baking processes, with 2-3 repeats to avoid uneven color and scratches and bumps. Our endless improvements in process ensure smooth finish, comfortable touch and long lasting.  
Packaging: Most individual products are packed in inner box filled with pearl cotton or Polyfoam for safe transportation and less crash, before they are loaded into outer case.
Inner packaging
In order to save shipping costs and avoid damage during transportation due to bulky volume, some of products are delivered in parts, rather than assembled. Surely we will prepare installation manual for them.
Feel sweatful and expensive to rent dinnerware and drinkware for your grand wedding reception or parties? Here is the option of disposable plastic dinnerware and drinkware, made of food-grade PS material and degradable, so eco-friendly.

Plastic cut-out dinner plates and drinkware