Champagne toasting flutes are special witness of people's wedding, anniversary and other events. Our exquisite toasting flutes, made of high borosilicate glass and metal stem and rhinestone, will be more a special gift rather pure glassware. It is stunning, gorgeous and practical, a great addition for wine party, family get-together and wedding ceremony.
The product is made of lead-free crystal glass and high-quality metal. It is smooth and free of shear marks, with trimmed non-slip edge. The metal surface is silver plated and treated for anti-oxidation. The glass conforms to food-grade quality requirements and is resistant to a temperatures up to 150 °C.
Special elements, such as heart, crystal particles and rhinestone, are designed in glass stem, adding gorgeous look. The following are several popular styles:

Metal Stemmed Champagne Flutes
We generally provide champagne flutes in silver and gold, and some even in rose gold. This dual heart style has 3 colors, silver, gold and rose gold, and has received great favors for wedding ceremony, parties and gifts.

This glass has dual heart connected each other, rhinestone stud along the heart edge. People always draw their breath when they unpack it.
This style below has its stem filled with rhinestone. The base is made of K9 crystal, excellent in texture and purity. It is a good choice as toasting glasses.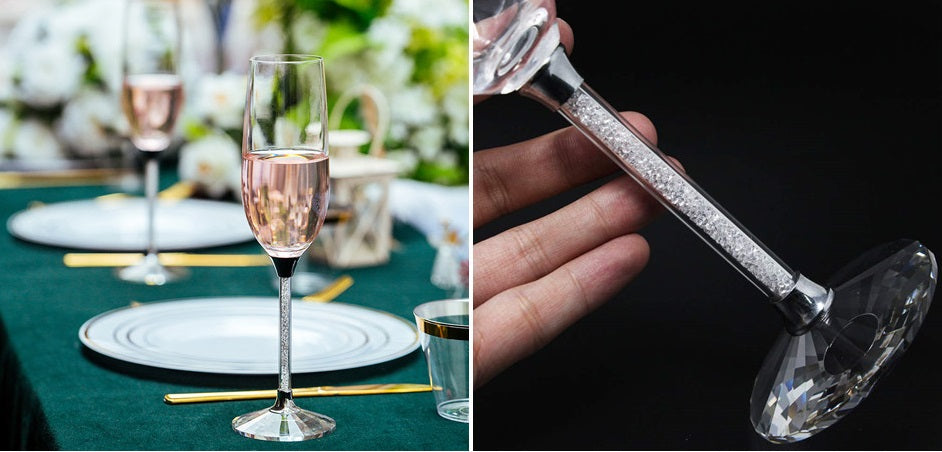 Glasses Filled with Rhinestone in Stem
The two styles below is distinguished by the additional loop of rhinestone stud on the base. Both styles are clear and crystal, and their noble and elegant look conveys eternal and lasting love.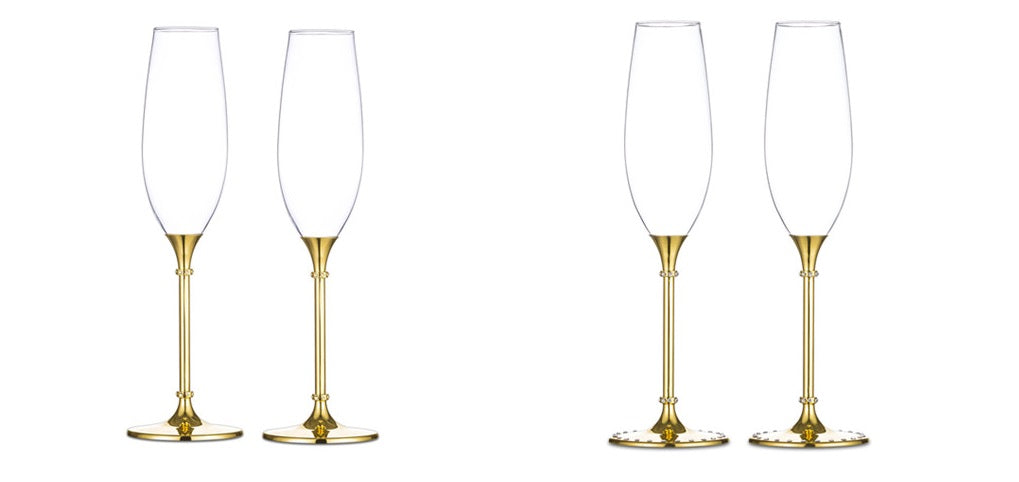 Flute Glasses with Rhinestone Stud in Loops
In addition to the toasting glasses, our wide selection of luxury stemmed goblet glasses goes perfectly with champagne, red wine, cocktail, brandy or beer. Those glasses have 32 rhinestones stud on the metal base, elegant and gorgeous. Clear and melodious sound goes out when they cheer together.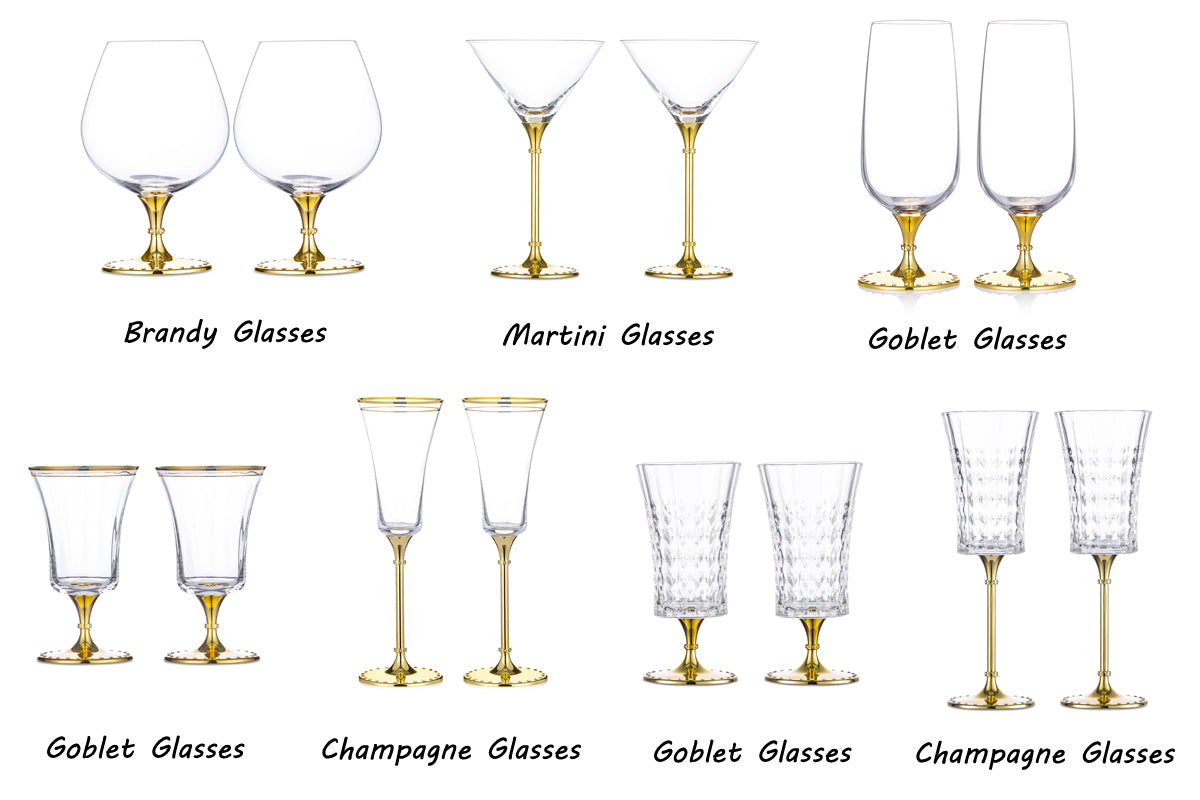 Wide Selection of Exquisite Goblet Glasses
Our products are generally packed in set of 2 in custom PE foam and outer box for safe delivery.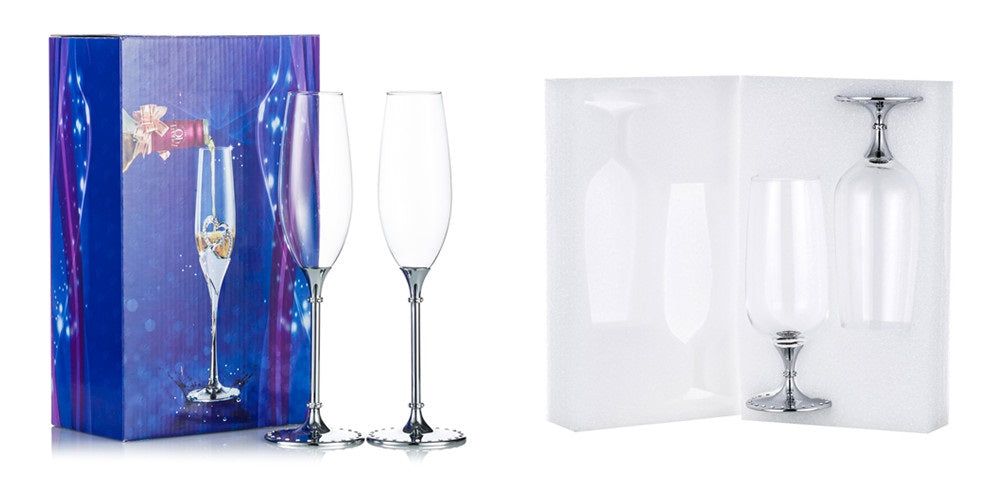 Inner Packaging and Outer Box
For those stemmed glasses, we developed a mermaid-shaped wine glass rack. Made of premium metal, the rack takes a mermaid look in copper or silver color.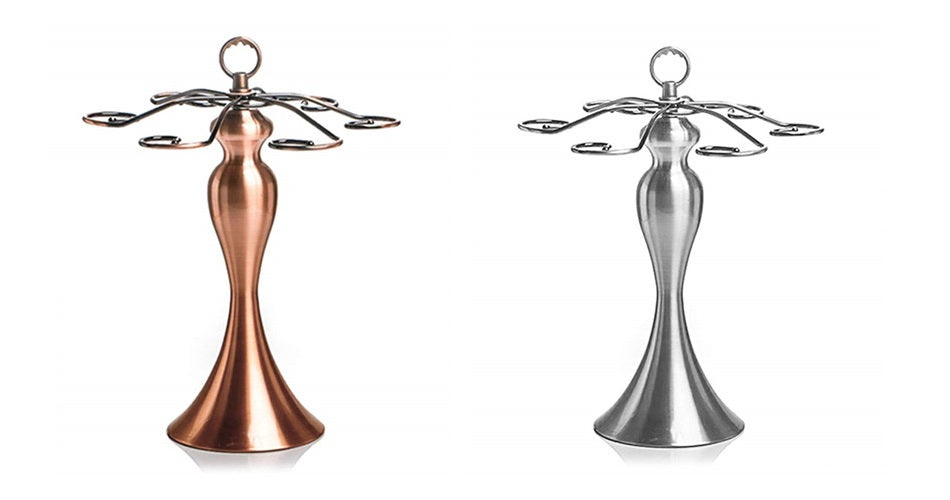 Mermaid Design Stemware Holder
We also have a series of glass wine decanters. Made of lead-free crystal glass, and man-blown, each product is artwork, clear and crystal.  bars, weddings and parties.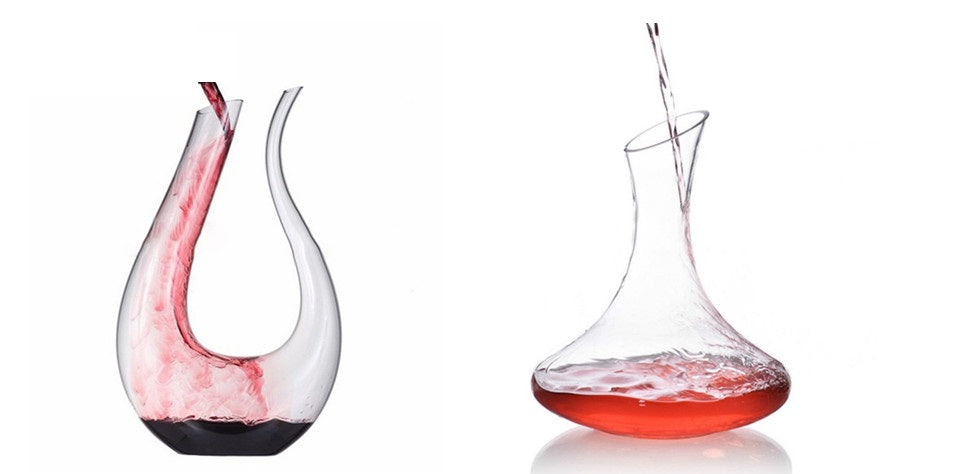 Wine Decanters
Made of premium lead-free glass, our decanters are clear and crystal. Looking through the decanter, you can clearly feel every subtle change in the wine.
In addition to glassware, we also offer cost-effective plastic drinkware to serve drinks, desserts or fruits. Such products save people much trouble and even costs, especially for large reception.

Disposable Plastic Drinkware for Wedding/Parties