Wedding cakes have been a part of every wedding since the beginning. They symbolize bringing good luck and fertility to the bride. It's usually served post-dinner to all the guests, sometimes as a wedding breakfast. Eating and serving your wedding cake is a pretty old tradition. To celebrate their love for each other, many couples save the top tier of their wedding cake and eat it on their first anniversary.
In the 19th century, marriage meant an increase in family size. To cut down the costs, many people used to save the top tier of their cakes and would serve it at the christening of their baby after one year. The cake-eating traditions after one year of your wedding go back a long way to represent the couple's blessings and good luck in their lives.
Each layer of the wedding cake represents a different purpose. When Queen Elizabeth (ii) married Prince Phillip in 1947, they had a massive 9ft tall wedding cake. The bottom tier of the cake was for serving the guests at the wedding; the middle tier was used as a giveaway gift for the guests. At the same time, the top layer was reserved for something unique. Are you thinking of conserving your wedding cake for your first anniversary? So let us guide you on how to preserve your wedding cake top tier.
How to Preserve the Top Tier of Your Wedding Cake
Many couples prefer hiring a professional to recreate the exact cake from their wedding. But hiring a professional to create your cake would be costly; after all, an average Australian spends 545 AUD on wedding cake annually. But if you want to preserve your wedding cake for 365 days, we present you with some smart tips to cherish that delicious moment again.
1. Let the cake cool down:
It is advised by experts that to wrap your wedding cake for preservation, let the cake gets cooled down. It's impossible to cover a fresh cake as all icing would get stuck. Some icings are soft, especially buttercup. It is advised to refrigerate the cake for some hours before wrapping them, so the icing gets sturdy.
2. Remove the decorations:
Before wrapping the cake, remove all the icing, such as sugar flowers, leaves, fondant icings, fruits, cake toppers, macarons, biscuits, etc. As we can't give the air a chance of being trapped while wrapping the cake's icing, it would adversely affect your wedding cake.
3. Use wax paper:
Before placing your cake on the cake stand, cover the base of the cake stand with wax paper. Then place the top of the wedding cake and wax paper again, and then the bottom layer. Wax paper is used so that your cake stays firm and soft and won't get reshaped.
4. Use two layers of foil:
It is strictly advised by the experts to cover the cake twice by using foil—this works best to retain the smoothness of the cake. Also, to make your cake firmer and sturdy, wrap it twice. Avoid any chance of air being trapped as it could rotten your wedding cake.
5. Foul smells:
Another reason to double-wrap your wedding cake is to avoid foul smells. A freezer is a place to preserve foods that you can use later, e-g, fish, meat, leftover food, etc. It's effortless for the cake to catch a smell, and obviously, it won't be edible anymore. So double wrap your wedding cake to avoid any chance of air being trapped in the cake's taste. If you want, spray some baking soda in your freezer to eliminate all foul smells.
6. Air tight container:
It is advisable to place your wedding cake with layers and layers of foil. For a smoother structure, remove all the decorations on the top tier of the wedding cake. After wrapping it thoroughly, please place it in an airtight jar or a polythene bag to retain its freshness.
7. Keep it in a safe place:
The newlywed couple gets busy traveling and honeymoon when the wedding is over. So who is going to take care of your wedding cake? Please remember you've to preserve the cake for a year. Please keep it in a place where you can keep it safe, like your parent's home or a friend's home. Of course, power outbreaks or appliance issues are there; in that scenario, it's not advisable to use the exact cake. Instead, order it from an expert to recreate your wedding cake.
8. It depends on the cake:
Experts say that it depends on the type of wedding cake. Some cakes are easily preservable for longer, while others are not. So if you plan to preserve your wedding cake for a year, then it's advisable to talk to your cake vendor. Your cake expert knows which type of cake can be easily preserved and avoids the chance of you ordering the wrong cake.
9. Refrigerate:
Now that your first wedding anniversary is about to arrive, you have a chance to live that tradition. So it's advised to remove the cake from the freezer and put it in the fridge overnight. Take it out the following day and keep it at room temperature for at least five to six hours before serving.
10. Decorate your wedding cake :
After taking it out from the refrigerator and keeping it a room temperature, apply some fresh icing on the cake. You can add some ornaments to make it look beautiful, like flowers, cake toppers, or fondants.
Wedding Cake Preservation FAQs
Can you eat a one-year-old cake?
Yes, you can eat your one-year-old frozen wedding cake. You place it in the freezer by wrapping it properly with plastic foil. Remember, if you want a fresh wedding cake after 365 days, then make sure to cover it well with layers and layers of plastic foil and freeze it.
How to preserve the top layer of my wedding cake?
The best way to preserve the top layer of your wedding cake is to remove all the decorations and frosting from the top layer. Wrap it firmly with plastic foil for smooth airless tight packing. After wrapping, remember to place it in the cake box or an airtight jar. Wrap the plastic around the airtight jar and freeze it for a year.
Are there any other options to relive this tradition?
Of course, it's pretty natural if you don't want to eat your one-year-old wedding cake. You can always ask your caterer to bake you the exact cake from your wedding and get it delivered on your anniversary. It's just a tradition; you can do it as fashion, and it's not a religious obligation to follow.
Which type of cake is best for preserving?
Classic English fruit and dense chocolate cakes are best for preserving. If they are adequately wrapped, then they won't lose their taste. While the cakes with fresh fruits or curds won't be a good idea to hold for a year as this might stale their taste.
What would you do if you had to travel for your honeymoon?
The best option would be to talk to your trusted family member or a friend for help. On your wedding day, you two might be too occupied with chores like catering, decor, rings, etc. It won't be possible for you to think about preserving your cake. A reliable family member, close friend, or the catering in charge can take the responsibility, and you can go ahead with your honeymoon.
What container is best for storing my wedding cake?
Place your cake carefully in a box, preferably an airtight jar. Now fill the space using wax paper or parchment so your cake won't get crushed during shifting. After placing it in an airtight container, wrap it again with plastic foil. This is advisable to avoid any chance of moisture or air inside the box.
What do I do with the decorations or fondants on the top tier?
Before wrapping your wedding cake in plastic foil, removing any decorations from the top tier is strictly advisable. All embellishments like sugar flowers, beads, leaves, fresh fruits, dry fruits, macarons, fondants, frosting, etc., are removed. You don't need to put all of them in the dustbin; place the edibles in the fridge, and you can eat them later.
What things can I use to wrap my wedding cake?
You can use a cake dome, cake box, Tupperware box, airtight container, etc., to pack your cake. Wrap it well with plastic foil, parchment, or wax paper to avoid the chance of any moisture running or staling your cake.
How to defrost my wedding cake before serving it?
Remember to take out your cake the night before serving it to your guests. Keep it refrigerated overnight. Right five to six hours before the event, please keep it at room temperature to let it sit for a while. Eating it chilled or a little warm is your call. You can microwave it for a bit and serve your guests with the tea if you want.
Should we freeze the wedding cake as soon as possible for preference?
No, it's not advisable to put your cake straight away in the freezer. First, put your cake in the fridge to let the icing and cake dry and get sturdy. Once it's sturdy and dried, wrap it in parchment or wax paper. It's advisable to refrigerate the cake before freezing so your icing and cake won't get destroyed. You can quickly wrap the cake in plastic and put it in the freezer once it's cooled.
Can we add something to the cake after it defrosts?
If you are sure of saving the top tier of your wedding cake, ask an expert about the type of cake chosen for your event. The perfect cake a couple can eat for their anniversary or christening their child could be an English fruit cake. The dried fruits won't get rotten for a year and will retain the same freshness and taste. Be a little creative and fancy; use fresh icing or ganache for serving your preserved cake to the guests.
How to preserve the top of your wedding cake?
If you've heard about the tradition of eating your wedding cake on your first anniversary, you can do it too. Let's live the tradition of love by following these simple and easy steps:
Before the day of your wedding, put someone in charge of taking the top tier of your wedding cake. As soon as you cut the bottom layer of cake, you get busy serving it to the guests. Meanwhile, a family member or a close friend can take the cake and place it in the fridge to let the icing and cake get sturdy.
When the cake and icing get hard and dried, it's time to wrap the cake with preferably plastic foil. Wrap it around the cake carefully and slowly, and do not leave any air gap. Do it before putting the cake in the freezer to avoid the awful freezer burns.
After wrapping it well and multiple times, it's time to put the tier of the wedding cake.
Place the wrapped cake in the cake box, Tupperware, airtight jar, or cake dom, and place it carefully in the freezer.
Fill the space using wax paper or parchment paper in case, so your cake won't get crushed while shifting.
After placing the cake in the required box, wrap it once again using plastic foil to avoid any air or moisture getting inside the cake box.
Put the cake box carefully in the freezer, and voila, you're all good!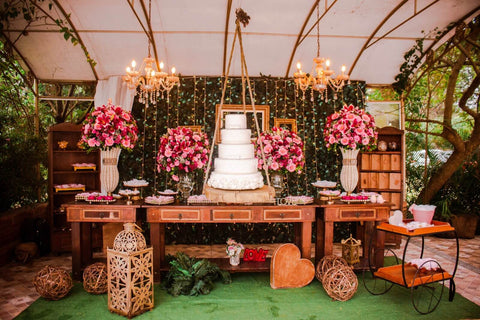 Conclusion
Nothing is more romantic than eating your wedding cake on your first anniversary. Serve the cake warm or cold with freshly brewed coffee. Relive every memory with every bite, and enjoy every moment of your beautiful wedding. We hope our guide has advised you on storing the top tier of your wedding cake. Are you planning to preserve your wedding cake? Have you tried our steps for maintaining your wedding cake? Let us know in the comments below. Happy eating!