Planning a wedding isn't a piece of cake, as it involves endless chores. Some must be done as last-minute touches, even on the wedding day. But if planned earlier, plenty of stuff could save you from the hassle of immense costs and any high-time mishap. Wedding decor is one of the most crucial yet most accessible to plan.
How? As it depends on your budget, you get what you pay for. Having an intimate wedding in a gazebo, backyard, beach, or courtyard? Looking to plan a wedding with the people you love the most? Surely it would save you costs and asks for a minimalist look.
But if you're getting married in a large mansion or a big chapel, grandeur decor is a must to accommodate the size of your venue.
After all, we don't get married every day so let us ponder you on exclusive ideas of modish and elevated tall centerpieces for your big day.
Classic Gold Centerpieces
Photo by nuptiostore.com
For a pleasant and exemplary effect, go for the classic bronze/ metal tall centerpieces. You can complement these with flower bouquets or balls. You can place these metallic gold centerpieces on either side of the head table or in the middle for an ingenious effect.
Column Vase Centerpieces
Photo by nuptiostore.com
The best thing about these intricately designed gorgeous centerpieces is that you can try these with anything. Thanks to their beautiful design, you can use these with candles, flowers, flower balls, faux blooms, or long stems to save the day.
For a morning wedding, these would look best with flower balls, while using candles for an evening wedding would present a surreal effect. 
Visit Amazon to learn more about it.
Antique Candelabras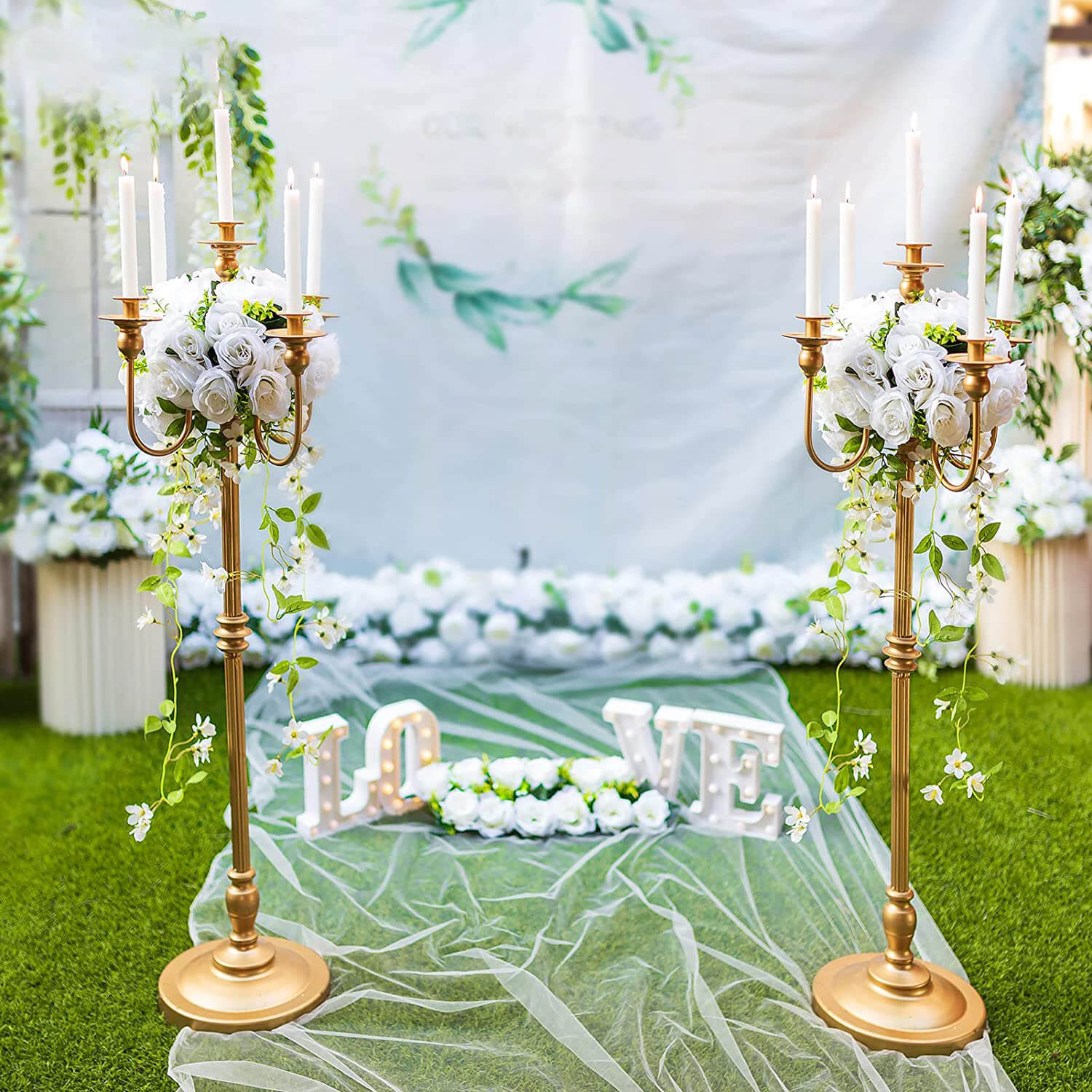 Photo by nuptiostore.com
What's best for a classic chappel wedding with large chandeliers and giant candelabras for that magical effect? Use these huge candelabras with slender colored taper candles to match your event's theme. Want to be fancier? Adjoin these candelabras with flower balls, and let your wedding decor be the talk of the town.
Check out our collection to order this metal floor candelabra centerpiece.
Artificial Tree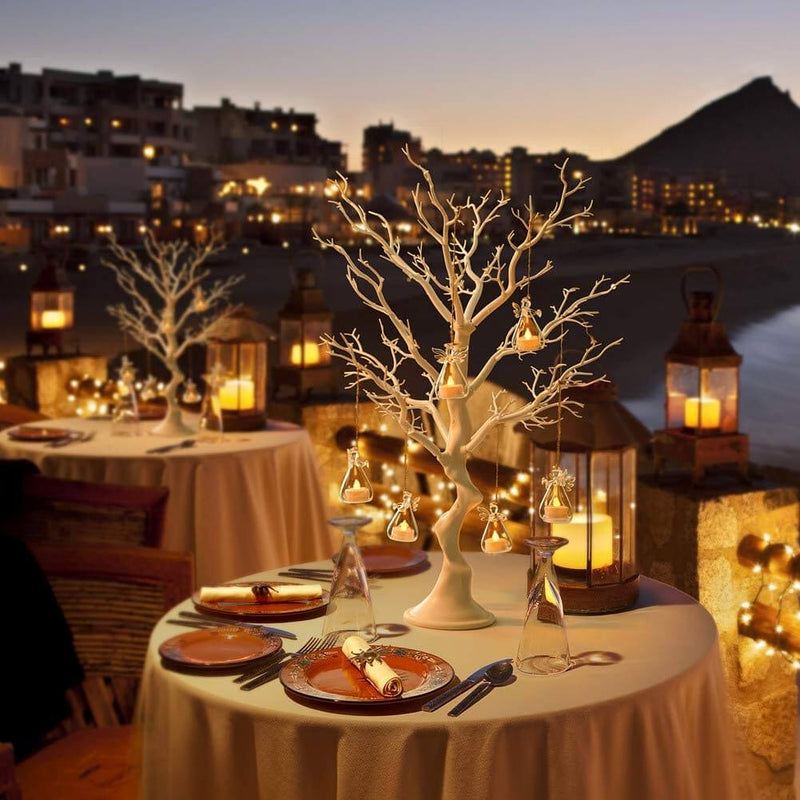 Photo by nuptiostore.com
Imagine an ethereal white wedding with lilies, candles, and white curtains, all dressed in white. Seize the day with these surreal artificial trees on every table for a fairytale effect. The best thing about these artificial trees is they can go with the simplest of objects and leaves an opulent impact.
Go to our store, get the artificial tree centerpieces, and add a royal touch to your event.
Urn Planters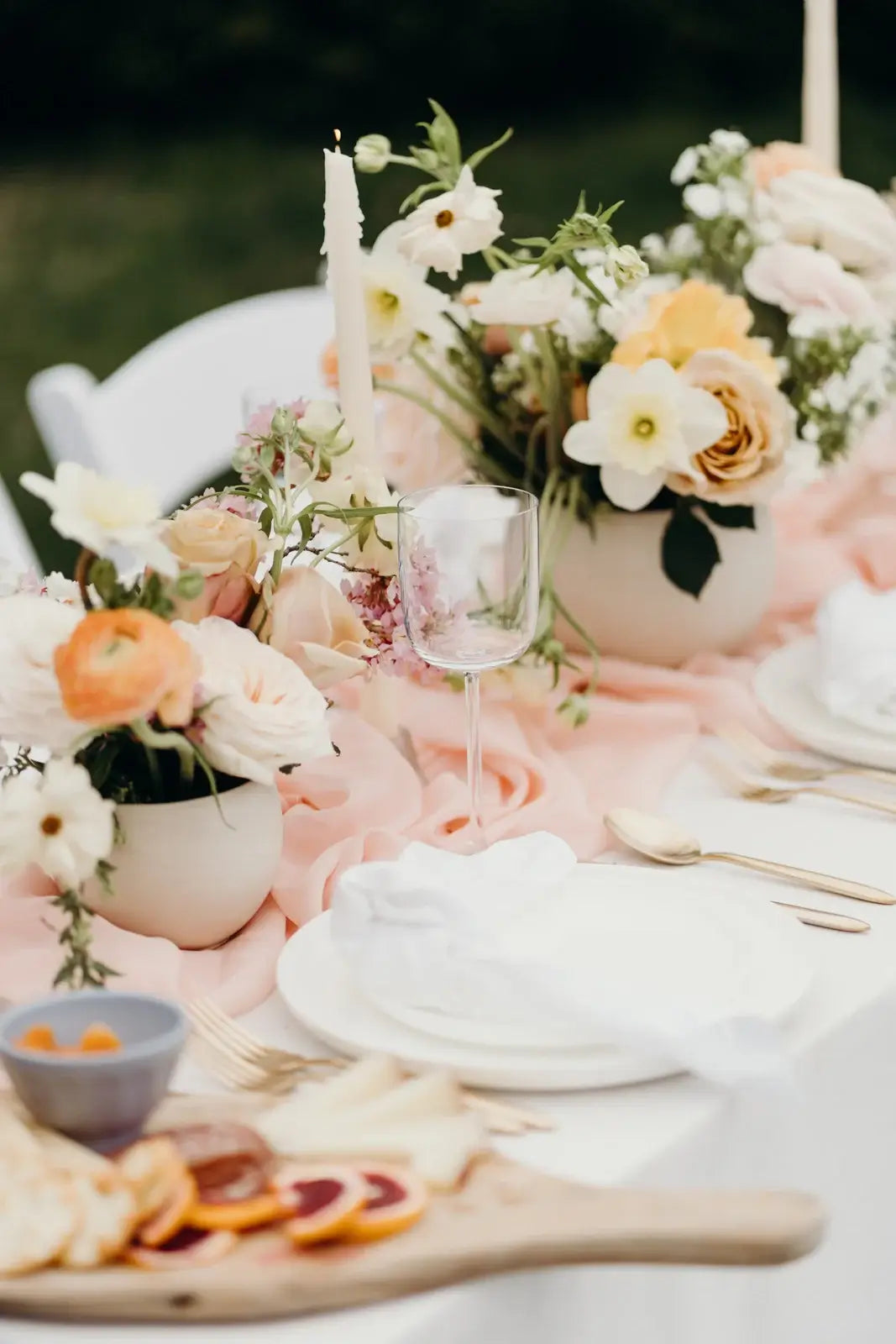 Photo by canva.com
Have you thought about using urn planters for your big day? They're affordable and can be decorated and designed per your wedding theme. These can fill up ample space for doorways, entrances, and wedding aisles. Even medium-sized ones can be used as wedding centerpieces. You can use them with flower balls, floating votives, or simple plants (if you're planning a botanical wedding).
Brass Candleholders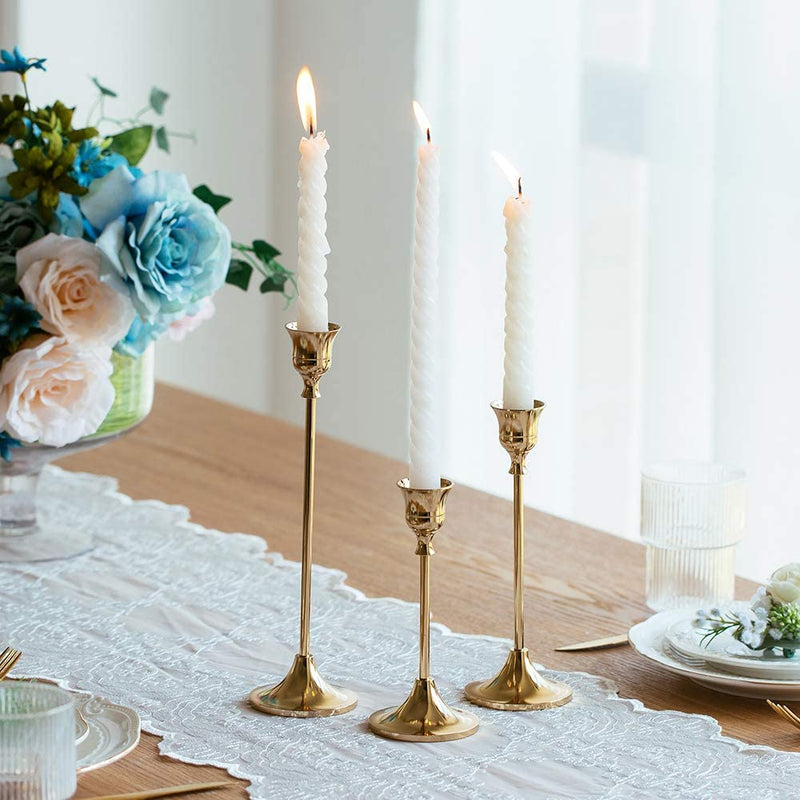 Photo by nuptiostore.com
Who said a wedding is all about flowers? Not everyone is a massive fan of blooms and garlands. What is more romantic for a candle lover planning an evening wedding with candles illuminating your event? Try these sleek and classic brass candle holders as wedding centerpieces for your event for a dreamy effect. For a simple and minimalist effect, complement wedding chairs with white chiffons and candles to have a fairytale wedding.
Birdcage Centerpieces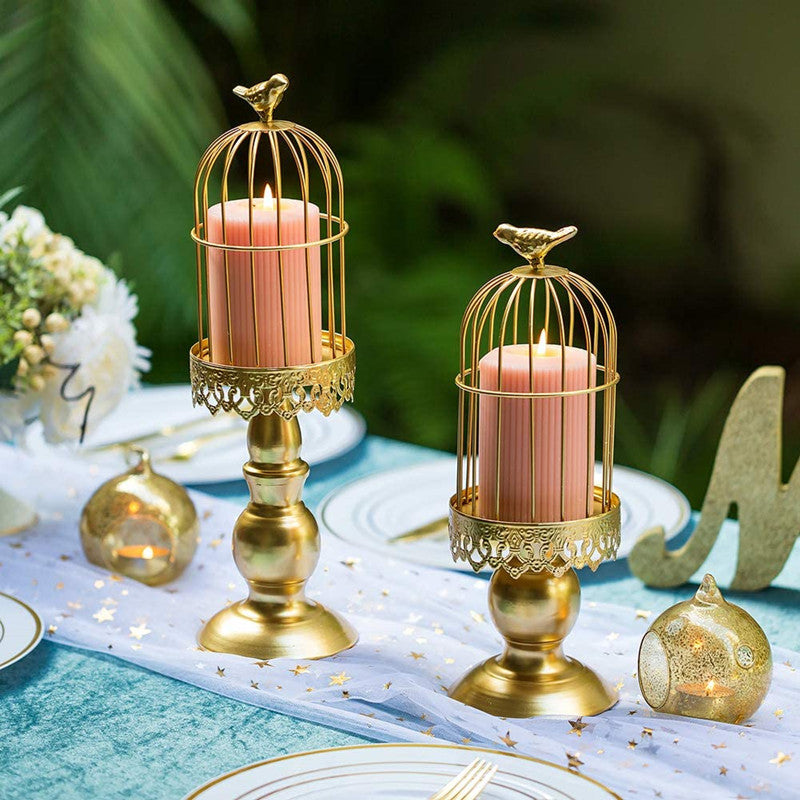 Photo by nuptiostore.com
Are you planning a boho wedding? Try this gorgeous birdcage candleholder as a centerpiece for a rustic and vintage touch to your wedding. These birdcage candleholders are designed and best suited for pillar candles. These wouldn't be heavy on your pocket and would be an appealing sight for the eyes.
Wooden Candleholders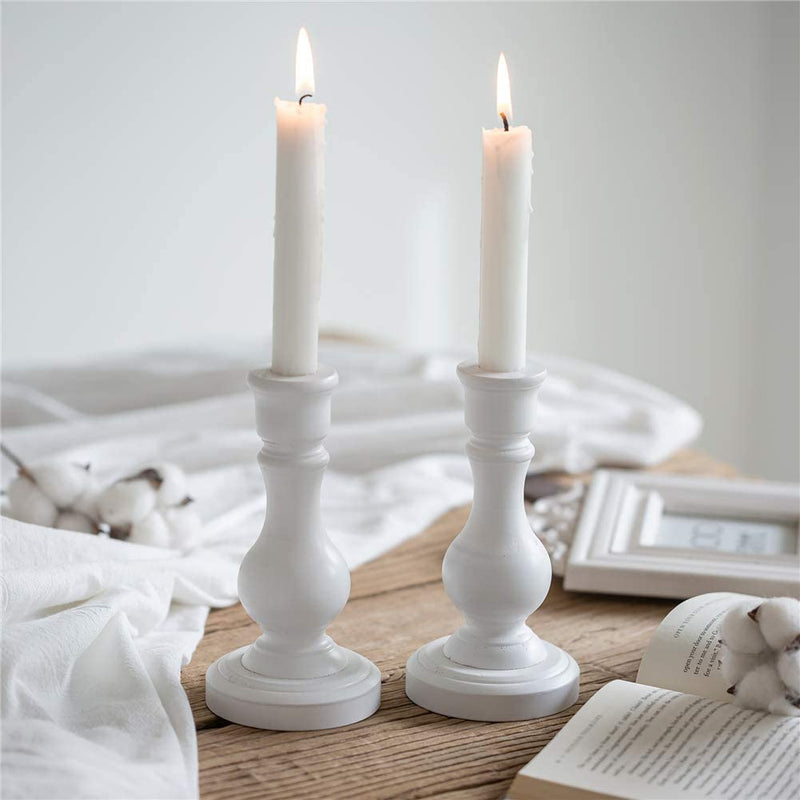 Photo by nuptiostore.com
For a rustic forestry wedding, look at this special edition of wooden candleholders. These could be best incorporated as a wedding centerpiece for your wedding day. You can use these with candles or flower balls to accentuate your event. These are affordable and stylish and can be used further as candleholders or placed on mantlepieces.
Pro tip: use these handy wooden candleholder centerpieces as wedding gifts for your guests.
Final Thoughts
Here's total unanimity in the grandeur and splendid effect of centerpieces on your wedding. Yet, some issues need to be taken care of. Centerpieces no doubt look gorgeous, but everything comes with a price. Choose them wisely and only; if you're getting married in a huge venue. The rule of thumb of centerpieces indicates that large centerpieces are used in a forum with elevated ceilings to give a majestic effect.
Also, be careful with their placement as they might not block the eye line of the guests sitting at a table. It sounds fun to plan your wedding, but if it's in your pocket, go for a professional. Our guide has aimed to help you for your big day; when are you getting married, and which centerpieces were your favorite? Let us know in the comments below. Happy wedding!