Featured photo by freepik.com
People tend to hold parties in their backyards more often than you think. Holding a backyard party will need decorating to make it fun and enjoyable. In such a case, you will be looking for great backyard party decor. However, sometimes decorations do not come cheap. What can you use as cheap backyard party decor?
There are several ways you can achieve such a great backyard party decoration. That is what we want to look at below to choose the right decor that is still affordable.
NUPTIO Wood Cake Stand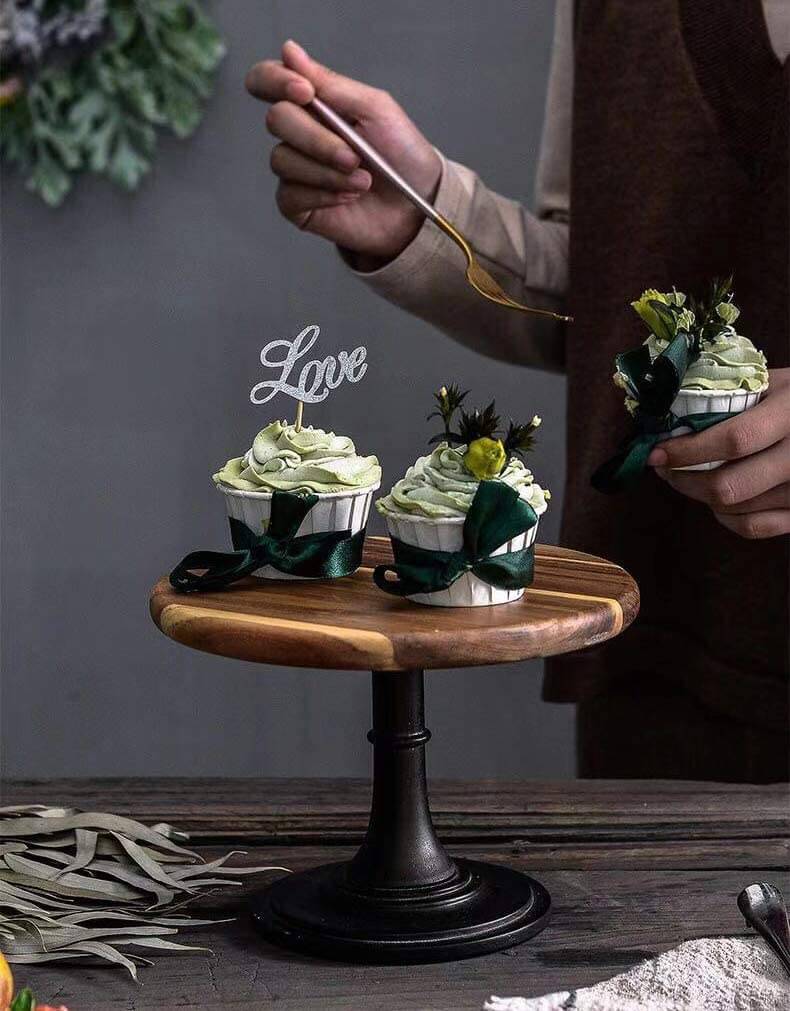 Photo by NUPTIO
A good cake stand might be necessary if you are holding a birthday party. We recommend this cake stand because of its size and design. It may be simple, but it still does a good job of remaining sturdy to keep the cake upright.
The cake stand is also made of solid wood material. The overall craftsmanship is great, meaning you get quality products. Still, the stand may be good for other occasions other than the birthday party. We also recommend it for housewarming, anniversaries, and baby showers.
It is also easy to keep the cake stand clean. Since it is just wood, not much special care is necessary. You can simply wash it with mild soap and cold. This is enough to remove the dirt and keep it clean until the next event.
NUPTIO Wrought Iron Hanging Gold Flower Vase
Photo by NUPTIO
Maybe you want to make the party even better, and you are considering adding floral arrangements to the backyard party decor. If that is the case, here is a nice gold flower vase to use. The design alone should make you feel more interested in it as it is different.
The flower vase should work well for all flowers, including fresh and artificial flowers. We recommend it for hanging hydroponic plants because it is a nice hanging flower vase.
Light Up The Backyard
We also advise lighting the backyard if you will hold the party into the night. Well, some parties simply start at night too. Several options to consider for lighting the backyard include string lights or solar lanterns.
You can consider something unique but still affordable. We recommend solar-powered mason jar lid lights to make your job easier. The solar lights do not need any additional wiring while, at the same time, working great as backyard party decor for the outdoor space.
Hang Balloons or Other Decorations
Photo by 100 Layer Cake
Balloons are some of the easiest and cheapest ways of decorating the backyard for a party. There are quite many variety of options to consider, and make it fun while at it. We recommend such for parties that may involve children. They would likely find themselves gazing upon the decorations.
Balloons and related decorations are also easy to set up. It takes a little time to have the backyard party decor done. Try to get different shapes and pair them to create a beautiful space outdoors for your friends attending the party.
Simple Table Backyard Party Decor
One of the ways to have fun outdoors is by setting up a table in the backyard. This is where people can sit, have a good time, and simply catch up. That is why we also recommend a simple table decoration.
Start with a simple but beautiful table runner. It should provide a base to add other decorations on top. Add vases containing simple flowers that you may easily pluck from your backyard. You may also include some candles that can be lit in the evening, giving you a welcoming feeling.
Hang Bottles With Flowers
Still, on the backyard party decor, we recommend trying out hanging bottles with flowers. Many homes have empty bottles and do not know what to do with them. In such a case, you may utilize them as decorations, as shown above.
Start by filling the bottles with water halfway and add flowers with long stems that reach the water. The bottle acts as the vase while the water hydrates the blooms, keeping them fresh. You can have the bottles using strings in any way that you like.
Other than hanging the bottles, you could also hang candle holders. It is amazing how much candles can improve the atmosphere of a place in the evening.
Movie Night Party
What if you have a nice party during the day and now a movie night to finish the day? If the weather allows, you need to set up the backyard for the movie. We advise you to make it simple. Having a few blankets plus pillows laid on the ground for the guests should be simple and cheap enough.
Do not forget to add the lighting to make the whole thing magical. String lights will do the job to ensure the whole backyard is lit properly.
Utilize Pallets For A Beautiful Look
Photo by Winnie Au for Eyeswoon
Pallets are easily available at your local hardware store, or people simply throw them away since they have no use for them. Pallets are easily a cheap way to have a nice table where your party guests can place their drinks and food.
Pallets can also be configured into different arrangements to suit the occasion. Once the event is over, the same pallets can be stacked and stored, or make other types of furniture from them.
Keep The Beer Cold
You may also be looking to serve your guests' beer. In such a case, we suggest using a wheelbarrow to hold the beers, and people can take from it. Add ice to the wheelbarrow and bury the beers into it. This is a great way of keeping them chilled.
Conclusion
Whenever you need to decorate your backyard cheaply for a party, many options are available. We recommend looking at the various methods shared above to find ideas on backyard party decor for less money. Most of these ideas take little time before they are actualized. So, see how well they work for you.